As a charity we are strengthened by the many people who support us including our staff and volunteers who give their time to help us deliver our services. Meet our management team and trustees.
Our charity is governed by a Board of Trustees, which consists of up to 12 elected members.
Chair
Karen Norton
Vice-Chair
Dr David Goldser
Treasurer
Julian Foster
Trustees
Richard Hanson
Georgina Holloway
Richard West
Colin Daniels
Bridget Hemmant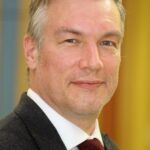 Andrew Morter, chief executive
Andrew joined as Vision Norfolk's chief executive in 2022.
He has 20 years experience in the voluntary sector, most recently at Norwich-based community charity Future projects, where he was head of operations.  Prior to this he was head of volunteering at Voluntary Norfolk, and he has also worked for the Citizens Advice Bureau.
He is deeply passionate about providing high-quality services, and committed to tackling the barriers that prevent people from living safe, independent and fulfilled lives – which is the mission of Vision Norfolk.