Children, Young People and Families
Sight loss affects people at any age. We help children, young adults and their families at every stage of their sight loss journey.
We provide emotional and practical support, together with specialist information, advice, guidance and signposting to other relevant organisations.
We hold a variety of activities and events for those of pre-school age through to those transitioning into adulthood, with activities to suit their wants and needs.
Children, teenagers and young adults from birth to the age of 25.
We encourage families to get involved in the activities, whether this be siblings, parents, carers or any other family members. It's not just for the children and young people, it's for their families too. We offer monthly opportunities for parents and carers to get together to chat and share experiences.
Fun, social activities
Action-packed sports
Chances to get creative
To join in educational sessions, from wildlife to media
The opportunity to try something new
Go on days out
A chance to meet other families and make new friends
Help to build confidence
Gain support, information and learn from others
To be part of a community supporting sight loss
Examples of events offered include:
Theatre trips
Ten pin bowling
Half-term digital music sessions with Lab Media
Visual-impaired football, in conjunction with Norwich City Football Club
Trips to Legoland and Harry Potter World
A behind-the-scenes tour of Carrow Road
A Christmas 'Santa Special' trip on the Bure Valley railway
A Christmas party
Together with activities, we assist young people and their families with anything from applying for relevant benefits to EHCPs. Home visits can be arranged, if required.
We also offer awareness information days and presentations on request.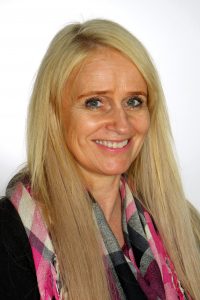 Barbara Dunn, Young People and Families Coordinator at Vision Norfolk
Barbara joined Vision Norfolk in November 2020 but has been familiar with the charity for several years, having being a user of the charity herself. At age 7, her son Marcus lost much of his sight when he was diagnosed with an aggressive form of leukaemia. He is now registered as severely sight impaired and is in remission from the cancer.
One of the things that Barbara found difficult when Marcus lost his sight was that he was no longer able to take part in some activities that he and his friends would usually do.
By chance, they came across the charity when they purchased some equipment and were encouraged to visit.
Barbara has found the charity to be a lifeline to her family. She hopes by actively continuing the Children, Young People and Families activities and events that she is able to provide the same lifeline to other families.
"I have first-hand experience of having a child that has visual impairment, I can relate to and understand what are families are going through."